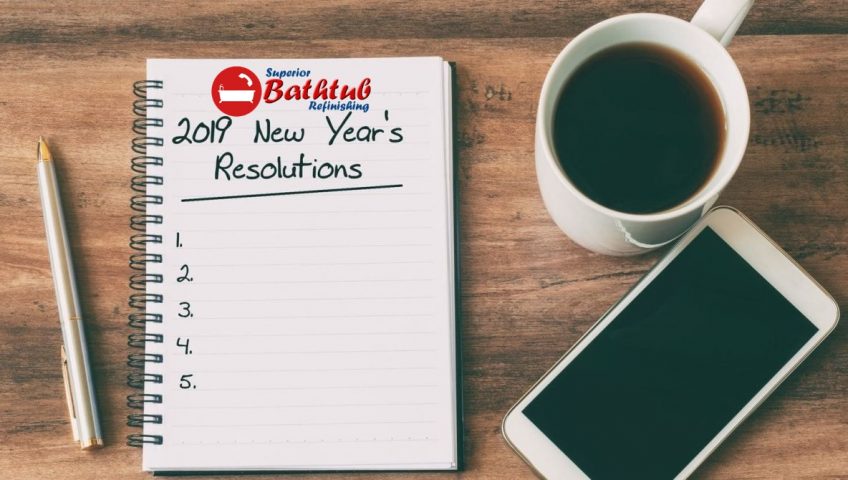 Bathroom Refinishing: New Year, New Bathroom
With New Year's holiday still ever-present on everyone's minds, resolutions are being made left and right. If you've been putting up with outdated or aged tiles in your bathroom, doing something about it may have found its way to your New Year's Resolution list. You might want to consider bathroom refinishing, also known as reglazing, rather than replacing your tiles or bathtub. It can be a cheaper option with the same great results; plus, if you like your tiles/bathtub antique, you won't have to part with them in your forever home.
Bathroom tile and/or bathtub refinishing will make a great addition to your New Year's resolution list as it can make your bathroom look brand new but at a fraction of the cost.
Bathroom Remodel Costs
According to HomeAdvisor, the average bathroom remodel costs over $10,000, and can take weeks or even months to complete. Finding and purchasing a new tub, cabinets, countertop, toilet, sink, and other components can be extremely stressful and time consuming, which is why this is a long-term solution. Instead of simply suffering in your current situation, a bathroom fix-up could be an alternative solution. Refinishing can cost as little as a few hundred dollars and take just hours to complete. This gives you almost immediate accessibility to your space and allows you to save thousands of dollars in the meantime. There is really no reason to spend several thousand dollars replacing a tub with a cracked or peeling surface when you could simply have it refinished for a few hundred dollars in a day.
Refinishing is Worth the Time and Money
There are many fix-up ideas that you can utilize to make your space feel brand new, without breaking the bank. Come up with a new color scheme for your bathroom, and go all out. Paint the walls, buy towels in complementary colors, change your bathtub or countertop colors to match. Choose a new theme and buy different art pieces to hang on the walls. Have a fun time going to the home goods store and picking out different decorations, soap containers, bath mats, and rugs. All these new additions will make your space feel completely different, and best of all will cost only a few hundred dollars.
It is important for you to feel clean and comfortable in your home, and this is hard to do if your kitchen or bathroom is feeling shabby and rundown. Though a full remodel does sound tempting when faced with these old sights, it is very expensive to tear everything out and replace it with new material. You don't want to commit to a remodel that you only halfway like because it is cheaper. A temporary fix-up could be just what you need to tide you over until you have enough in your budget to commit to the remodel of your dreams. You don't have to live with your peeling tub or scratched countertops, but neither do you have to spend thousands to fix them today.
Conclusion
Bathroom refinishing can be a largely inexpensive project that rejuvenates your bathroom, breathing new life into your seemingly stale bathroom décor. You may do the work yourself and save even more money, or you may decide to save yourself the stress and hassle and contact a professional to do the work for you. Whichever route you choose to take, you're sure to love the results of your now, like-new bathroom. This project makes a great addition to your New Year's resolutions' list due to its cost-effectiveness and the short amount of time that it will take to complete the work.
Save Money with Superior New Year Bathtub Refinishing . Get Your Free Quote Today. Check Our Work Online !!!