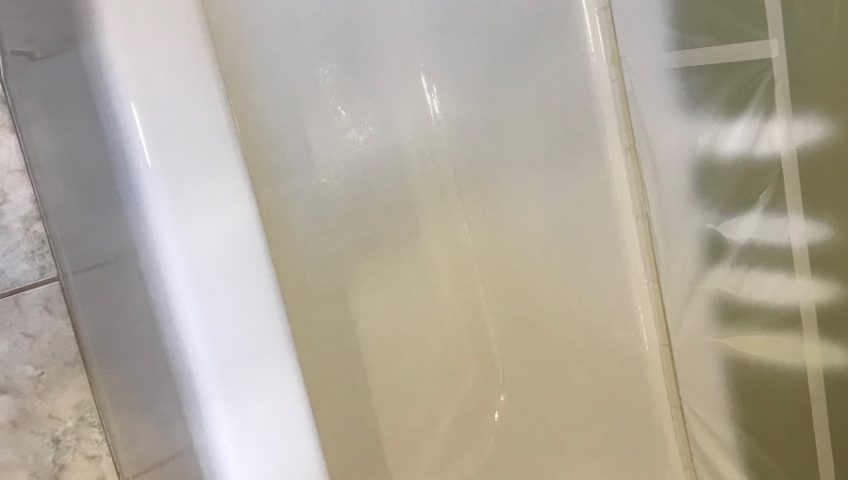 Refinishing Frequently Asked Questions (FAQ)
Q:  Why Choose Refinishing?
A:  When considering the cost of replacement, you must also consider the costs of the removal, replacement items, labor and installation – not to mention the mess and time bathroom remodeling typically takes. Refinishing increases the value of your home and with more than 80% savings over replacement, refinishing is an ideal solution.
Q: How long will the new finish last?
A: With the proper care, you can expect around a decade for bathtubs and enclosures. Wall tile can last even longer because it receives far less wear. Also bathtubs can be refinished over and over again.
Q: How long does the bathtub refinishing process take?
A: Work is completed the same day. Be wary of any company claiming a standard tub or something larger can be completed properly in "1 or 2 hours". We define time frame as the moment we arrive to the moment we drive off.  If a single bathtub refinisher is using the standard industry technology, and not cutting corners, it will take longer than 1 or 2 hours from the time they arrive to the time the leave.
Q: How long must I wait to use my newly refinished surface?
A: Light usage after 24 hours for bathtubs and enclosures. Floor tile and countertops can be used 72 hours after the last coat is applied.  Warranty is voided if refinished area is used or disturbed prior to this recommended cure time.
Q: Do I need to prepare anything before the technician arrives?
A: Yes. Any leaking faucets and loose tile or grout should be repaired before we can refinish. Additionally, the tub's water source and drain must be in working order. You should remove any soaps, shampoo, razors, toothbrushes, curtains, shower rods, hanging caddies, pictures, etc. from the area.  Any item you can move with your finger should be removed. It is best if you can also remove shower doors and tracks before we arrive. If fixtures such as toilets, vanities, cabinets or pedestal sinks are in the way of refinishing the tile or tub, they should be removed prior to our arrival. It would be greatly appreciated, though not required, that you vacuum up the rooms and lightly clean them for sanitary purposes. A clean environment will also limit the amount of surface dust that will settle on the newly refinished surface.
Q: Is there a difference between bathtub refinishing and bathtub reglazing?
A: No. Bathtub refinishing, bathtub reglazing, tile refinishing or tile reglazing are all describing the same process of applying a new finish over a hard surface. Do not confuse this with applying new porcelain. Porcelain can only be baked-on in a kiln (oven).
Q: Is the process harmful to me, my family or my pets?
A: Our process is not harmful to people or pets. We mask odors with a fragrance and properly seal off and ventilate the areas we're working in. There will be a lingering odor for the first 24hrs. Everyone has different sensitivity levels, so if you are still concerned it's probably best you are absent during the actual spraying process.
Q: Do you warranty your work?
A: Yes. We warranty tubs, surrounds and wall tile for 3 years against peeling or lifting of the finish on its own. Do not confuse this with the expected lifespan of your finish. Just like a car will outlive its warranty, your finish can last much longer with proper care. We do not cover chips caused by impacts from above. If a touch up is required and falls within the limits of this guarantee, it is your obligation to contact us in a timely manner and all work and materials will be supplied at no extra cost.  If a problem does not fall within the limits of this guarantee, you will be subject to a service or repair charge.
Care & Maintenance (Bath Tub, Sink and Tile)
The surface must remain dry for 24 hrs after work has been completed.
Take care removing any masking tape and paper after 24 hrs.
Reinstall any hardware such as drains, faucets, handles, etc. after 24 hrs.
You must never use bath mats with suction cups! Any suction cups can damage the finish.
When cleaning, use only a non-abrasive cleaner. Remove cleaner thoroughly after use. Do not use cleaners with bleach.
Do not store soaps, shampoo, bath oil, shaving cream, etc on bathtub or rim. Chemicals in these products can damage the finish over time.
Repair any leaky faucets at once. Dripping water will cause premature wear and rust around drain.
Take care pouring any liquid drain opener directly into drain, making sure not to spill any on the finished surface.
Most surface dust will dissipate in 3-4 weeks with normal cleaning and usage. Do not pick surface dust off with finger.
Follow these rules and your surface will look great for years to come!
Save money with Superior Bathtub Refinishing . Get Your Free Quote Today.